Asking for Old Timers' Help
USFWS Region 3 Refuge Chief Charles Blair needs help to identify people in these photos of the attendees at the 1964 Region 3 Regional Conference. Some have been identified, but not many. So, Ed Crozier put numbers on the people in the photographs and had PDF and JPEG reproductions made of those marked up photos so they could be electronically distributed around the county for others to view and help identify those portrayed.

Ed Crozier is acting as the collector of the identities and is keeping a running tally. He can be contacted at ecrozier@comcast.net with any information you might have. Thanks to everyone for your help!
There are two photos below. Every person is numbered in each photo and a list of those who have been identified is under each photo. If you have trouble seeing the details in the photos, click on the title of each photo (ie, Photo No. 1 and Photo No. 2) for a PDF version (due to its higher quality, it may take a minute or two to load).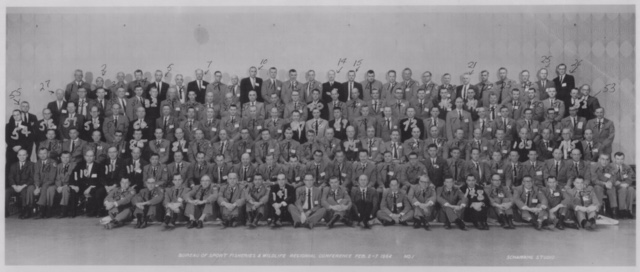 Photo No. 1

1. Bart Foster, UMR
11. Jim Hubert
12. A GMA
14. Bert Rounds, River Basin
16. Leroy Sowl
17. Forrest Carpenter
18. Harvey Miller ?
19. Seney or Lacreek Mgr.
22. Leroy Hovell
24. Art Hughlett
34. Herb Troester
37. Mgr - ND
40. Jim Salyer
43. Geo Gard ?
45. Lyle Schoonover
49. John Ellis
52. Harvey Nelson
51. Biologist in RO, later ran for MN Gov.
63. Fisheries ?
65. Jerry Blackard
69.Norm Johnson
72. Kermit Dybsetter
73. Harry Stiles
74. Bill Aultfather
76. Ed Crozier
77. Dick Toltzman
80. A Iowa GMA
83. Homer Bradley ?
84. Robert Timmerman
89. A GMA
90. Bill Blair
92. John Winship
95, Fran Gillett
97. Dr. Bill Green
98. Ed Smith
99. Les Dundas
101. Mgr. at Horicon & Mingo
102. Sherburne NWR ?
107. Eric Lawson
108 Milt Reeves, Aberdeen AAO
123. Gerald Pospichal ?
116. Marv Duncan
119. Joe Kotok 120 Pospichal ?
124. Gerry Clawson
125. RO Engineer
127. Bill French
128. Ed Collins
129. Jack Frye
131. Marv Mansfield
134. Frank Martin
145. Dick Vasse
152. Jim Monnie
153. Claire Rollings
5. Harvey ?
6. Howard Woon
7. Don Gray
8. Ray Huber - River Basins
10. RO Eng.
16. Arch Mehrhoff
18. Walbert Kennedy (GMA)
20. RO Realty
24. Chuck Griffin
51. Marv Plenert
64. John Carlson
67.. Kent Olsen
77. RO Realty Chief
80. Don Percuchin
82. An Asst. at Tamarac
87. Clyde Odin
91. Ray St. Ores
92. RO Refuge Administration Chief
94. Robert Burwell
95. Planner in engineering
100. Dave Olsen
101. Ralph Town
102. Realty - then in Alaska
104. Tom Smith
112. RO Realty
113. Harold Benson
114. Geo Bekeris
117. Vic Hall
121. Meyer - RO Administration Chief
123. Asst. RD
135. ADC
138. Dave Umberger, RO Eng.
139, Jerry Wilson
140. Schaefer (sp?) Asst. RD
142. Bill Swanson ? Realty
144. Herb Dill
148. Goody Larsen