2009 Reunion at Kennebunkport, Maine

The Colony Hotel is an ocean resort hotel known for its environmental responsibility and for its premier location, location, location.  Further, the April issue of Coastal Living magazine included The Colony in its list of the top 10 coastal eco-resorts. It is spectacularly situated on a rock promontory overlooking the Atlantic Ocean and the mouth of the Kennebunk River.  The Colony Hotel is about 90 miles north of Boston; about 28 miles south of Portland.
Joining the 128 FWS retirees were members of the Service's Northeast Directorate team and members of the Service's Heritage Committee which means over 150 people attended all or part of this reunion..  The service was good and the kitchen put out a most wondrous lobster bisque.
The Retiree Association owes a special thanks to Tom McAndrews and Bob Miller, and their wives Joan and Irma, for locating this place and for arranging the favorable terms so the reunion could meet there.  The Association also recognizes the support of the Service's Northeast Region.  Regional Director Marv Moriarty has long supported the Retiree Association.  Kyla Hastie was his point person with our group and finalized many of the arrangements  --  her second time doing this for Retirees.  She was instrumental in Pelican Island reunion connecting with the NWR centennial celebration.
Welcoming remarks to the retiree's were made by Northeast Regional Director Marvin Moriarty.  Tom Bradbury, Executive Director -  Kennebunkport Conservation Trust and Ken Elowe, Director of Maine's Fish & Wildlife Resource Management joined in the opening of the reunion.
Charles Hasty did his usual great, particularly informative and practical information session, Helping Hands After Retirement.  Charles is a former FWS personnelist now in the private sector and donates his time and talent to benefit his former retired colleagues.  His usual timely take-home handout is a particularly valuable reference of updated information focused on the retired Government worker.  There are still a few copies of this bound presentation available.
A short bus ride brought retiree's to the Great Bay National Estuarine Research Reserve in New Hampshire and a visit to its Discovery Center.  This reserve encompasses about 4,500 acres of tidal waters and wetlands.  It is an extremely important piece of the east coast ecosystem in an area of fairly dense population.  The message of successes here, including the Great Bay NWR, is the partnerships with 33 different Federal, State, local & NGO entities working together to preserve this very special area for education, research, and resource protection.
The icebreaker social was a success with a local microbrew offered along with some really great heavy hors d'oeuvres. The venue include the outdoor porch (a little bit chilly after dark) and an adjoining meeting room but this was the chance for everyone to get together in one place for reminiscing, story telling and good old visiting.
New FWS Director, Sam Hamilton, attended the banquet and his comments provide an uplifting and positive critique of the current Fish & Wildlife Service and its outlook for the future.  His presence amid his very busy schedule is much appreciated and is a mark of respect of the important role retiree's played during their careers.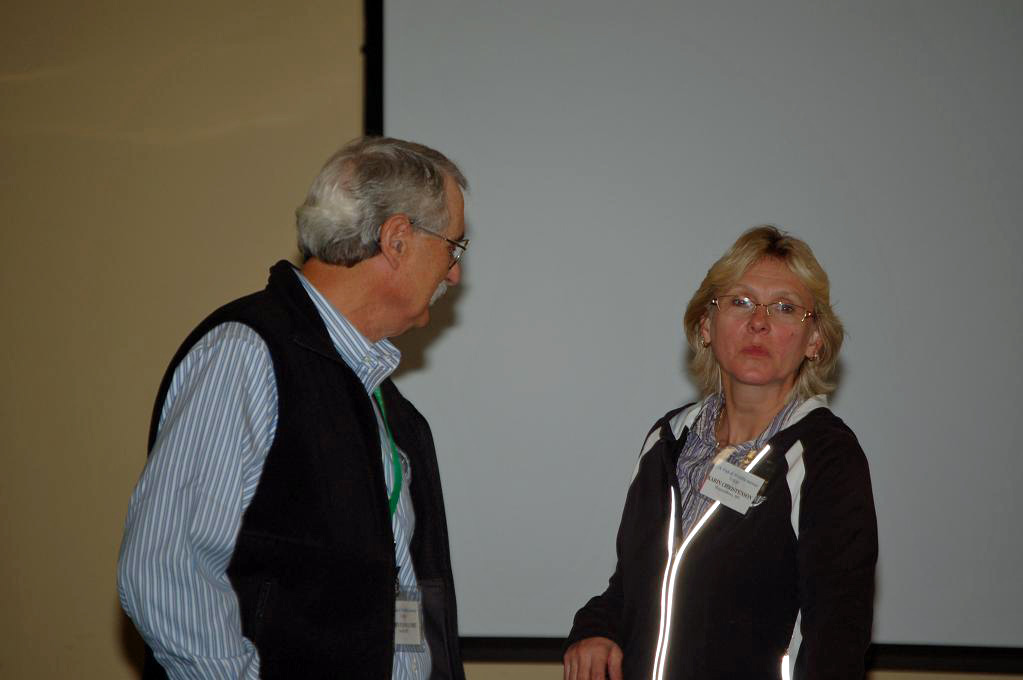 Dr. John Juriga was awarded the 2009 Fish & Wildlife Service Heritage Award in a short ceremony during the banquet.  He was recognized for his untiring effort in recognizing Service artist Bob Hines.    He has been extremely enthusiastic about Bob Hines, and is certainly one of the greatest expert on his works.  He has helped to create a museum exhibition on Rachel Carson and Bob Hines at the Ward Museum in Maryland, and is working on another to be given in conjunction with the anniversary of the Duck Stamp program.  This rich legacy of knowledge and works of Bob Hines would be mostly lost if it were not for the generosity and hard work of John Juriga.
Maine humorist and storyteller Clyde Folsom provided after dinner entertainment and a lesson on how to speak 'Maine.'  In his biography, "He started telling stories in the third grade, when he found it necessary to lie to his teacher on why his homework was never done.  Telling stories and lying came easy and he has been perfecting the art ever since."  We were fortunate to have this popular Maine and New England entertainer at our dinner.  However, it was noted by some of the retirees that there were a few accomplished retired FWS storytellers present whose friends are the active verb, adjective and imagination.        
The agenda was:
Tuesday 10/6 – 8am–1pm, Retiree Association Board Meeting (all retirees invited), 1:00-5:00pm FWS Heritage Committee meeting; 1:00pm, Retirees arrive, afternoon  registration
Wednesday 10/7  - Registration continues, Welcoming, General Session Programming, Guest Speakers, Workshops, Association Business Meeting; 6:00pm - Icebreaker Social
Thursday 10/8   -  FWS Field Tour w/sack lunch; 6:00pm - Dinner Banquet
Friday 10/9        9-10 am,  Closeout - Remembrances
If you have photos or remembrances of this reunion, please contact us at web@FWSRetirees.org