International Volunteer Travel
Do you have a sense of adventure? Do you want to see how conservation is practiced in other parts of the world?  International Volunteer Travel may just be your ticket.  This is a new FWS Retirees Association activity which we hope to grow.  Working with a number of partners and contacts we develop opportunities for FWS retirees to travel together to volunteer in other countries.  Trips consist of volunteer work and opportunities to go see the wildlife and the habitat of other countries.
Read below for information about the next planned trip and reports about completed trips. And for future information on volunteer travel, check out the newsletters and "Like" the FWS Retirees Association page on Facebook.
2017 South African Safari and Volunteer Opportunties Announced!

Due to the overwhelming success of the February 2016 Conservation Volunteer/Safari and requests to offer a summer opportunity, we have talked with the staff at Chazen Game Reserve and are happy to announce two new trips.

Trip 1 – February 5 – 17, 2017
This will be a conservation work trip. Depart Sunday February 5, arriving in Johannesburg February 6. 

Tentative schedule: February 6- 12 at Chazen Game Reserve. February 13-16 at Pilanesburg National Park. 

Includes lectures on Vredefort Dome World Heritage Site (Chazen is located in the dome area), visit to nearby town of Parys. Visit to Marapeng and /or Sterkfonein Caves, You can find more information about Chazen on their website Africa Through Your Lens. Return flights depart JohannesburgFebruary 17, arriving back on the 18th. Many travelers opt for additional trips to Cape Town or additional safaris.

Cost: $2500 plus airfare ($2500 is all inclusive, including all transport, meals, lodging, entry fees). Group is limited to 10 people.

For more information, contact: Donna Stanek at dstanek0418@hotmail.com

Trip 2 –June/July 2017, exact dates to be announced 
Departure will be on a Thursday with Friday arrival in Johannesburg and departure from Johannesburg the following Friday. This will be a non-work trip.  Tentative itinerary four days at Chazen Game Reserve.  Three days at Pilanesburg National Park.  Includes lectures on Vredefort Dome World Heritage Site (Chazen is located in the dome area), visit to nearby town of Parys.  Visit to Marapeng, Sterkfonein Caves, or Lesedi Cultural Center.
Cost: $2500 plus airfare.  ($2500 is all inclusive, including all transport, meals, lodging, entry fees)

For more information contact: Donna Stanek at dstanek0418@hotmail.com
African Safari Adventure February 2016

This year's conservation volunteer/safari was a great success! It was probably the best yet! On January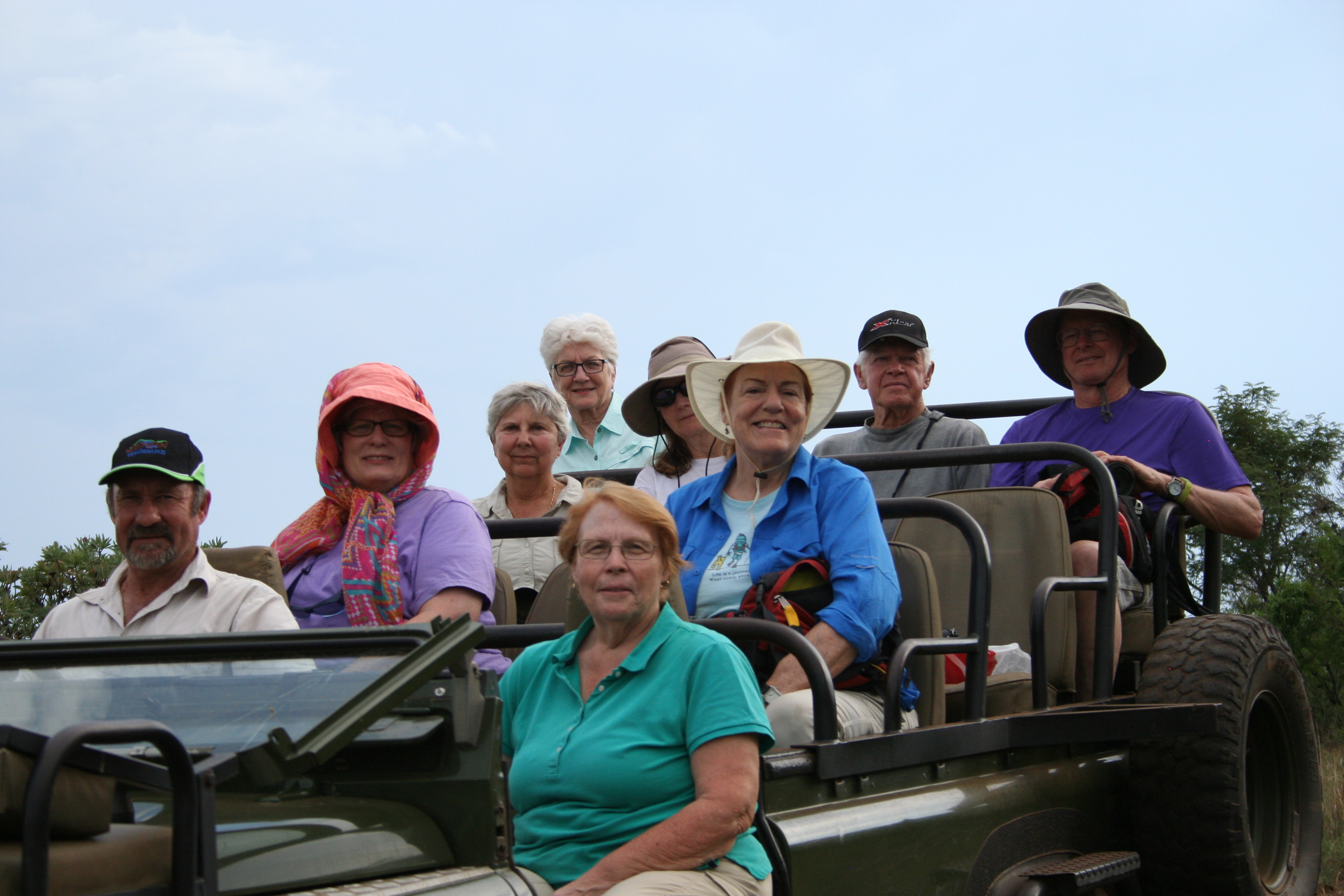 31, a group of eight volunteers consisting primarily of FWS retirees, spouses and volunteers met in Atlanta to journey to South Africa for a two week adventure. We were met in Johannesburg by our Chazen Game Reserve hosts, Joe and Micha Viljeon. We arrived at Chazen after dark, and were met by the staff with a wonderful bonfire, and dinner outside at the new Chazen Conservation Center. 
The first day was spent acclimating to our new surroundings, doing a couple of game drives and recovering from the long trip. But work began on day two. The focus the work activity was getting the center ready for its grand opening in the next few months. 
The primary focus of the center is wildlife education. They have constructed a number of large pens to house eight different species for breeding and observation purposes. These areas needed some clearing and additional work to make them ready. Our FWS crew was up to the task of clearing brush in a number of the pens over the next three days, and were able to see the fruit of their labors when the lions and wild dogs were able to be moved while we were there.  Also, a couple members of the group built much needed bat boxes for the center. A very productive time!
From left to right and from front to back: our host Joe Viljoen, Donna Stanek; Linda Evans, Fran Lynch; Robin Fields, Nancy Morrissey; Jacque Tisdale, Jim Tisdale, Allan Danise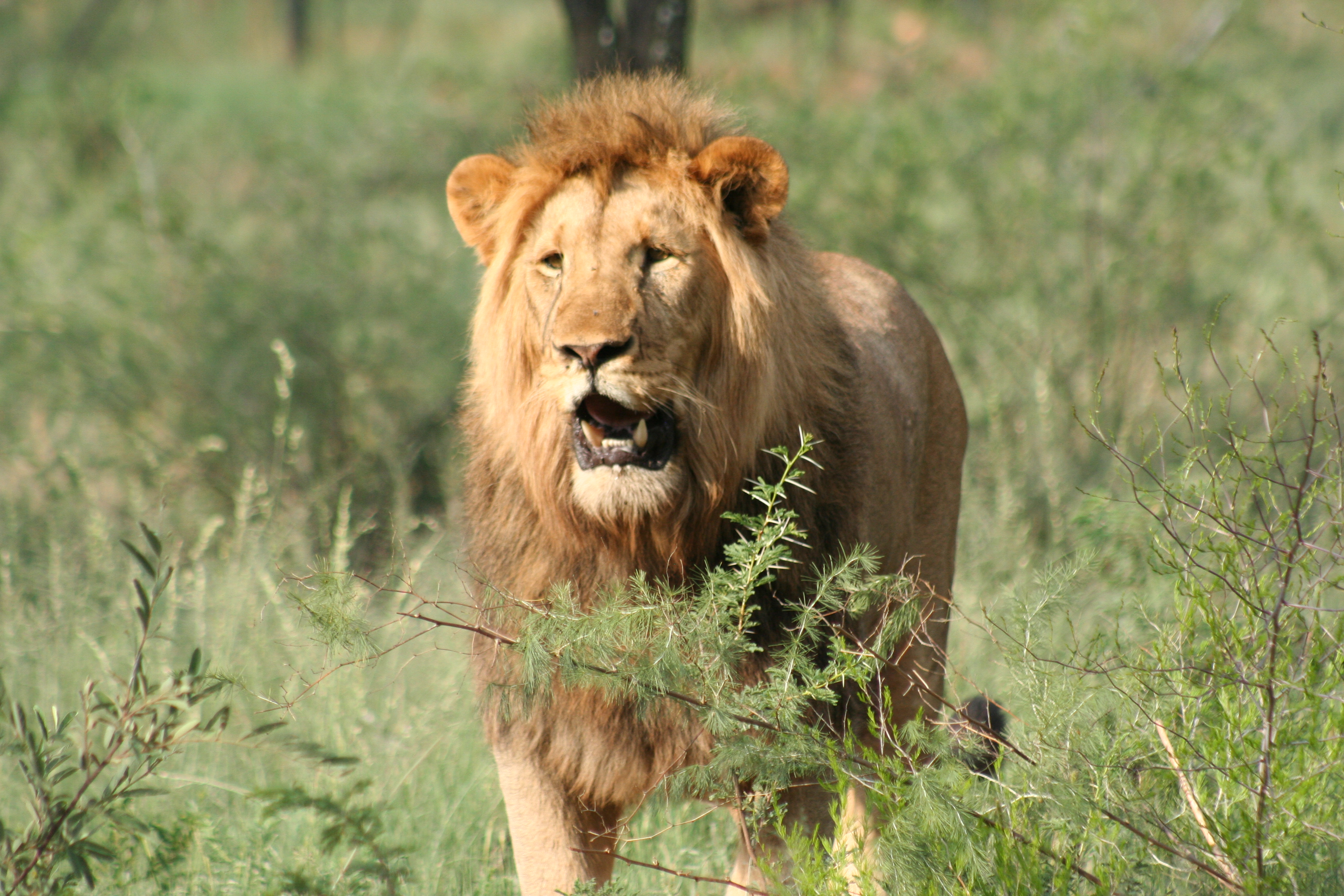 But it was not all work and no play! We were able to go on games drive just about every day. The first morning bode well for the rest of the visit. We saw an amazing variety of wildlife in just a few hours in the morning and there never was a disappointing day! Chazen has a great variety of wildlife, (most of the hooved species, giraffes, cape buffalo and lions, to name a few) but does not have three of the more popular species – elephants, rhinos or hippos. So to see those we ventured north to Pilanesburg National Park for three nights. On the way, however, we got a little history lesson when we stopped at Maropeng Visitor Center that focuses on Earth's time line and history. It is associated with the nearby Sterkfontein Caves were many of the oldest human remains have been discovered – a World Heritage Site.
We arrived at Pilanesburg National Park, checked in and had a nice dinner, to prepare for a 5:30 am meet time for a morning drive in the park. The next two days, and last evening were absolutely amazing wildlife viewing. The group saw the Big Five during their stay. The last evening was magical - including both a black and white rhino, a group of four leopards, and a pride of seven lions stalking about, and a large family of elephants of all ages!The next morning, we loaded our bags and headed to Johannesburg to continue our journey, all of the group added trips to Cape Town for more adventures and stories to tell.
A Cuban  Adventure
On January 20th an intrepid group of 16 travelers, including a number of Fish and Wildlife Retirees, gathered at Miami International Airport to begin their Cuban Adventure. Board member, Matt Perry coordinated this journey through the Caribbean Conservation Trust.  The primary focus of the ten day trip was birding and to search for 28 endemic Cuban birds, but it was so much more.
We landed in Havana International Airport mid-morning, got through customs and met our trip guide Yuri Napalones, and off we went. Before departing Havana we met Orlando Garrido, Cuba's most renowned living naturatlist, who opened his home and gave us a primer on Cuban birds.

Our first night was spent at Las Terraces, a beautiful mountainside setting. Here we met our birding guide Cesar, who is an amazing birder and proved to be patient with us and all our questions! A wonderful beginning, and this was just day one! We spent the morning exploring  a couple of nearby areas, before climbing on the bus.

We then headed to the western peninsula and the coast to Guanahacabibes National Park, one of Cuba's most wild areas. Our guide here, Park Ranger Osmani Borrega, is doing amazing work with very few resources, but has such a passion for the birds and his park! He took us all through the area, hiking us through some mangroves to small lake to quietly watch birds coming in to roost a few, a very magical spot!

We then moved on to La Guira National Park, to focus on forest birding, this also including a cave complex and rock formations that were easy to access through a series of stone steps and plazas.  An added extra feature was going through the cave complex that served as Che Guevara's headquarters.

Our final area was the Zapata Peninsula and the Bay of Pigs, here we stayed in what is becoming a growing cottage industry in Cuba – guest houses.  While in the area for a couple of days, we spent time exploring forested areas, swamps, and coastal marshes.  One of the highlights was seeing over 500 flamingos before heading back to Havana.

Before leaning on January 28, we spent a day exploring Old Havana and learning a little more about the history of the country. We even took a ride in some of the famous old cars of Havana.  Although the focus of the trip was birding, it ended up being so much more. The entire trip was amazing, not only for the birding and wildlife, but also to learn about Cuba. We found the Cuban people to be open and friendly and willing to share their story.