Who We Are
Who is a Retiree?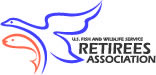 The Association counts as a retiree any person who worked for the Fish & Wildlife Service and has now retired, including their spouses. Further, some of our colleagues were caught up in reorganizations, retired from other agencies, or taken on second careers, but still consider themselves Fish & Wildlife people. Among these are colleagues that were formerly in Research, Animal Damage Control, or certain National Fish Hatcheries transferred to State operation.
"Everyone is either a retiree or a retiree-in-training"

The Association of Retired Fish and Wildlife Service Employees, more commonly referred to as the Retirees Association, is a non-profit organization of retired ex-FWS employees who want to thoroughly enjoy their retirement but who also want to maintain past relationships with the agency, its personnel, and with each other.
To accommodate these multiple objectives, the Association focuses primarily on
preserving and highlighting the rich history of the Service and the many contributions of its past and present employees to the conservation of our nation's natural resources,
keeping involved in conservation issues and efforts and assisting the active Service whenever possible in fulfilling its mission,
maintaining contacts and friendships with former colleagues and friends throughout the country, and, just as importantly
having fun doing it.
Board of Directors Updated!