NCTC's Turning 20
and We're Invited to the Party!
HERE'S THE LATEST 
In our last Retiree Newsletter, we announced that there would be a gathering at the National Conservation Training Center (NCTC) in Shepherdstown, West Virginia, in October 2017 to celebrate its 20th anniversary.  All FWS retirees were invited to attend and participate in the celebration and to have our own mini-reunion.  NCTC has offered us retirees free lodging for the week and many of you have indicated an interest.  A block of rooms has been set aside for us on a first come, first served basis - you can be among the first and head the list.  In our earlier communications, we advised that more precise information would be forthcoming so you could plan your travel and confirm your reservations.  Here 'tis! 
DATES
Plan to arrive at NCTC Tuesday, October 17.  The program starts the next morning and ends after breakfast on Friday, October 20.  [NCTC is extending the dates for the available rooms for the weekends if you want to come early or stay afterward and do a little sightseeing.  Also, if you are interested in seeing what the Service's Heritage Committee is doing, they have an all-day Tuesday meeting; come one day earlier, you're welcome to attend.]
RESERVATIONS       

PHONE:  You will need to call in to confirm your attendance and the dates you will stay.  The call in number for reservations is: 304-876-7900.  Available 24 hours but best 9 – 5 EDT.  You are encouraged to provide a credit card for incidentals, i.e. bar tab.

NAMES:  The NCTC will make name tags for attendees.  If you want Bubba on yours (or not), let them know.
MEALS:  There are two meal plans available.
Government  -  Based on Government per diem rate is $40 – good if you eat like a field hand.
A-la-Cart  -  Pay as you go.  NCTC staff recommends this method as much the cheaper.

SHUTTLE:  The NCTC will operate a special free shuttle van service for retirees between Dulles airport and the NCTC for those that might prefer not renting a car.  If you choose this service, let them know when you reserve your room.  They will need to know your airline, flight #, & arrival time.  Riders to meet at the shuttle pickup island across from exit 7 (baggage claim 2 & 3) Reston Limo Service – driver will know your airline and schedule.  Will need picture ID to board.
The shuttle schedule is:
Tuesday, 10/17 - Dulles to NCTC at 1 pm, 4 pm, & 7pm.
Friday,    10/20 - NCTC to Dulles at 9:30 am.
COORDINATION
Jerry Grover has agreed to coordinate this event for the Association.  If you encounter any difficulties or have questions, contact him: He can act as an intermediary and/or answer your questions. 
Jerry's e-mail address is: Groverjj612@frontier.com and his phone number is 503-684-1809.
AGENDA
While the Agenda is still in draft, a number of items have been confirmed.  Jerry will provide updates to folks that register.
Click here to see the
Draft Agenda
.
Combined Celebration Planned
On Saturday, June 17, 2017, the Friends of John Heinz NWR will be hosting a combined celebration for FOHR's 20th Anniversary and John Heinz at Tinicum National Wildlife Refuge's 45th Anniversary. There will be opportunities to enjoy the refuge from 5:00 pm to 9:00 pm, an evening visit for the first time providing hikes, dusk paddling trips and storytelling to share the sights andsounds of the refuge at a time when it is usually not open to the public. There will be music and food trucks to enjoy. The FWS Retirees Association is supporting the event with one of our anniversary mini-grants. 
Too short of a notice to make it in June? Well there's a "2nd chance", smaller event planned for November 4, 2017.  More to come on the latter event as it draws closer.
Asking for Old Timers' Help
USFWS Region 3 Refuge Chief Charles Blair needs help to identify people in the photos of the attendees at the 1964 Region 3 Regional Conference. Some have been identified, but not many.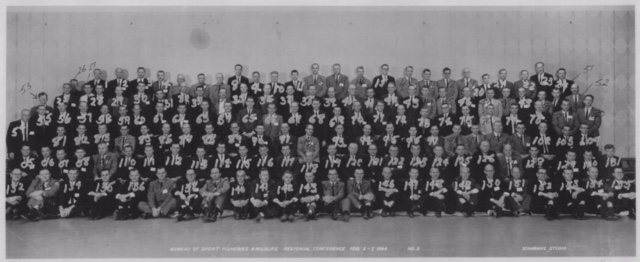 Click here to see larger photos and see if you can help!
Joint Letter Regarding Government Shutdown
Bob Streeter, Chairperson of the Association of U.S. Fish and Wildlife Service Retirees, joined with leadersr of the Coalition to Protect America's National Parks, the Public Lands Foundation, and the National Association of Forest Service Retirees to write to President Trump, Senate Majority Leader McConnell, Senate Minority Leader Schumer, Speaker Ryan, and House Minority Leader Pelosi regarding the impact of a government shutdown on our national parks, national wildlife refuges, national fish hatcheries, resource conservation areas, national forests, and other special lands and waters where people visit and recreate. Read the letter here.
Dan Ashe's Final All-Employee Message
Click here to read FWS Director Dan Ashe's final all-employees message.
New Board Members for 2017
Thank you to dues paying sustaining members for taking the time to vote in 2 new members of the Board! They are Skip Ladd and Rowan Gould. In addition, Jim McKevitt was elected to another three-year term. We were pleased that there was a return rate of over 50% of the sustaining members using our new online ballot. The Board got business for 2017 underway by electing officers for the year: Bob Streeter, chairperson, Rowan Gould, vice chairperson, Jim McKevitt, Secretary and Gail Carmody, Treasurer. A big thank you goes out to outgoing Board members Nell Baldacchino and Matt Perry for their service to the Association. Nell Baldacchino has agreed to continue to coordinate the anniversary grants program, and Matt Perry, will continue to try to bring retirees from the research program into our fold..
Thank you for supporting the Association and taking the time to vote!
P.S. Sustaining members are those who are current on dues for 2016. Friendly reminder that our dues are payable for each calendar year. You can update your membership on the Join Us tab.
Reunion 2016 – Memphis on the Big Muddy
A very successful 2016 Reunion took place in October in Memphis, TN. Click here for a few selected photos!
Official Reaction to Malhuer NWR Verdict
The FWS Retirees Association joins with Secretary Jewell and Director Ashe in being profoundly disappointed in the verdict regarding the takeover at Malhuer NWR earlier this year. Their letters to all employees are posted here:
All Employee E-Mail from Secretary Jewel
All Employee E-Mail from Director Ashe
Emerging Issue - Loxahatchee NWR
Our Board wants you, our members, to be aware of an emerging issue, and to write to Florida Governor Rick Scott supporting the FWS positon to work cooperatively.
ISSUE:The State of Florida is attempting to void the lease agreement for one of our most important National Wildlife Refuges. 
Click here to read the letter from the Board Chair to all members of our Association.
Emerging Issue - National Bison Range
Our Board wants you, our members, to be aware of an emerging issue, and to encourage you to assist us in developing any future course of action by our Association.
ISSUE:  After failing to reach a reasonable agreement with the Confederated Salish and Kootenai Tribes (CSKT) for the co-management of the National Bison Range (NBR) in Montana, the Service has indicated that it would support legislation to transfer the NBR to the CSKT for management of the lands to be held in trust by the BIA.
Our Board is generally opposed to the loss of any lands now within the National Wildlife Refuge System or actions that are not consistent with our heritage.  We have been in touch with the Directorate and have sent the Director a letter stating our concerns. 
Click here to read the letter from the Board Chair to the Director on behalf of our Association.
We will continue to investigate the nuances of any proposal and keep you informed. 
Numerous members have already voiced their concerns to the Director, the Secretary, and their elected officials.  We encourage you to do the same.  We do want to hear from you and learn of your thoughts and opinions as to what additional action the Retirees Association should take as the issue develops into some specific action by the Service or the U.S. Congress.  Please mail or email any comments to Bob Streeter, Chair, rgstreeter@gmail.com, who will share with the Association Board for further discussion. 
Click here for additional information about this issue.
Been a long time since you have had an email from us?  Know that we have the right email for you?  If the answer is yes to both questions, you may want to check your spam folder and mark anything from these addresses as not spam:

postmaster@fwsretirees.org
chair@fwsretirees.org
treasurer@fwsretirees.org
If you've changed your e-mail address, please update it by clicking here.
Travel News
Members of the FWS Retirees Association recently returned from the 2016 Conservation/ Volunteer Safari to South Africa and another intrepid group explored Cuba in search of 28 endemic Cuban birds - and so much more! Read all about their adventures here (and scroll down on this page to learn how you can participate in the next trips planned for 2017).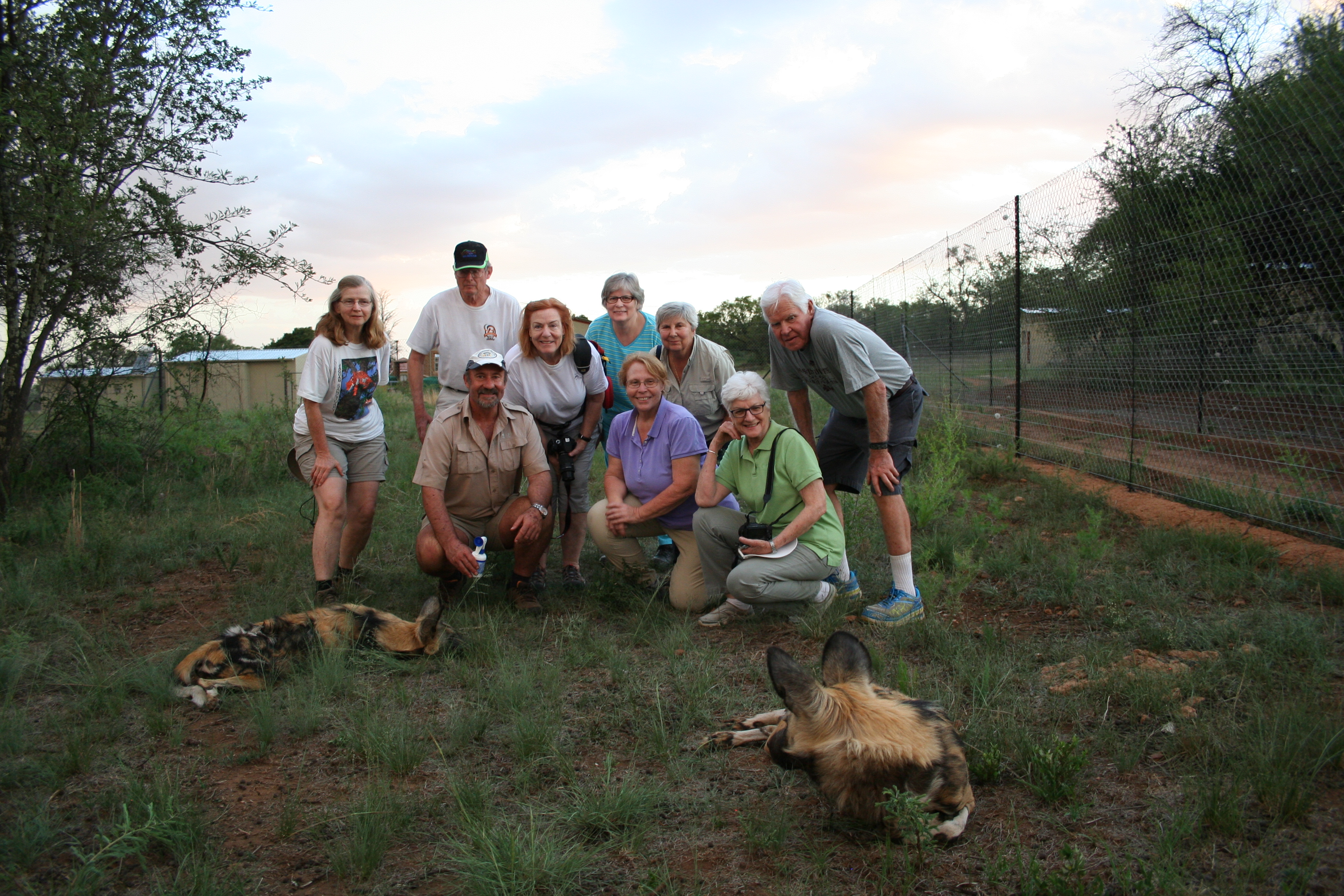 This year's group in South Africa with the wild dogs they helped move to their new home.
From left to right: Back row - Nancy Morrissey, Allan Danise, Fran Lynch, Linda Evans, Robin Fields, Jim Tisdale. Front row - our host Joe Viljoen, Donna Stanek, Jacque Tisdale.
2017 South African Safari and Volunteer Opportunties Announced!

Due to the overwhelming success of the February 2016 Conservation Volunteer/Safari and requests to offer a summer opportunity, we have talked with the staff at Chazen Game Reserve and are happy to announce two new trips.

Trip 1 – February 5 – 17, 2017
This will be a conservation work trip. Depart Sunday February 5, arriving in Johannesburg February 6. 

Tentative schedule: February 6- 12 at Chazen Game Reserve. February 13-16 at Pilanesburg National Park. 

Includes lectures on Vredefort Dome World Heritage Site (Chazen is located in the dome area), visit to nearby town of Parys. Visit to Marapeng and /or Sterkfonein Caves, You can find more information about Chazen on their website Africa Through Your Lens. Return flights depart JohannesburgFebruary 17, arriving back on the 18th. Many travelers opt for additional trips to Cape Town or additional safaris.

Cost: $2500 plus airfare ($2500 is all inclusive, including all transport, meals, lodging, entry fees). Group is limited to 10 people.

For more information, contact: Donna Stanek at dstanek0418@hotmail.com
Trip 2 –June/July 2017, exact dates to be announced 
Departure will be on a Thursday with Friday arrival in Johannesburg and departure from Johannesburg the following Friday. This will be a non-work trip.  Tentative itinerary four days at Chazen Game Reserve.  Three days at Pilanesburg National Park.  Includes lectures on Vredefort Dome World Heritage Site (Chazen is located in the dome area), visit to nearby town of Parys.  Visit to Marapeng, Sterkfonein Caves, or Lesedi Cultural Center.
Cost: $2500 plus airfare.  ($2500 is all inclusive, including all transport, meals, lodging, entry fees)
For more information contact: Donna Stanek at dstanek0418@hotmail.com
Watch the New FWS Retirees Association Video
A new video is available on YouTube called "Join the FWS Retirees Association". Featuring interviews with FWS HIstorian Mark Madison, Pacific Region Retiree Jerry Grover and Board of Directors Member Dr. Mamie Parker, the video covers the history of the Association, the benefits of joining and how to join (if you're not already a member!), and some of the activities members participate in - especially the reunions!
Click here to watch the video.
Board Offers Free Membership for First Year
Apply for membership - your first year is free!
------------------------------------------------------------------------------------------------------
To renew & pay dues, click to pay by check or to pay online by credit card
------------------------------------------------------------------------------------------------------
Why join?
Keep connected to USFWS, renew friendships,
make new friends with similar interests,
travel to unique wild places,
do volunteer work for fish and wildlife conservation,
and support the FWS Retirees Association