Join Retirees in  Colorado in March or Oregon in May or Both!
We hope to see you soon! We are planning two opportunities for you. First up is a sandhill crane expedition in March in Colorado. Then comes the 2018 Reunion on the Pacific Ocean in Lincoln City, Oregon.
Sandhill Crane Tour: Join in on some Spring 2018 birding fun! The Colorado San Luis Valley Sandhill Crane Expedition is planned for March 19-23. Click here for more details!
2018 FWS Retirees Association Reunion: O.K. Retirees, its time to make your travel plans and lodging reservations. Click here for the vital
information and schedule.
2018 FWS Retirees Reunion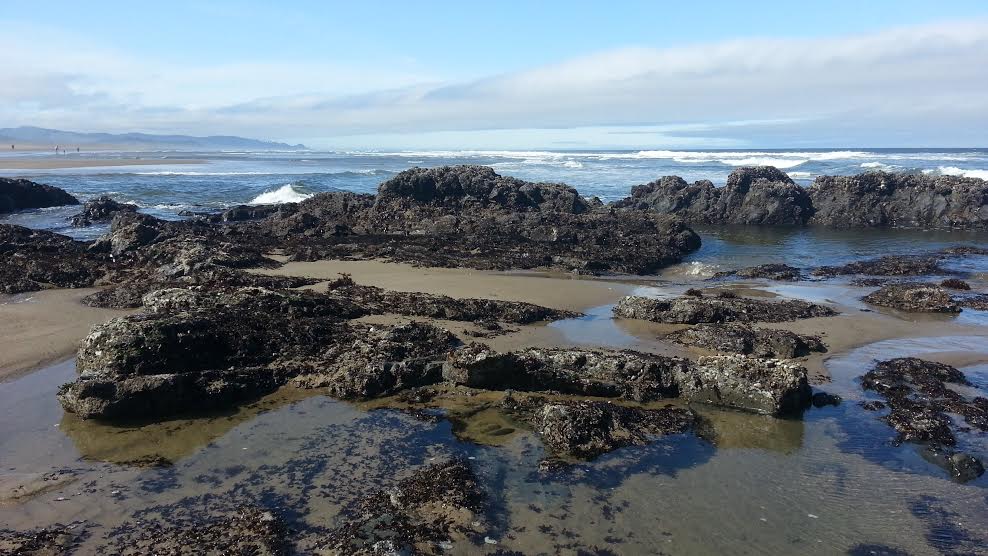 Heads Up! 
The next regular FWS Retirees Reunion will be on the central Oregon coast in May 2018. The week of May 6-10, 2018 is booked at the Chinook Winds Resort Hotel in Lincoln City, an enterpris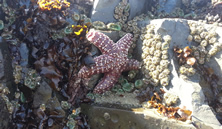 e of the Confederated Tribes of Siletz Indians. The program is being developed and the accommodations are excellent.  Negotiated room rates start at $99 per night for this venue which sits right on the ocean. All the rooms have an ocean view andif you walk out the door on the ground floor there are six miles of Oregonbeach. Amenities include a sauna, and spa, a heated indoor swimming pool. eight different on-site dining venues, headliner entertainment, and a lush 18-hole golf course just a tee shot from the casino.
Make your travel plans now while airfare sales are on!  The Board is planning some fun activities and an engaging program.  See you in Oregon!
Education Outreach
Many of us are involved with youth programs and mentoring or have family members and neighbors who are educators.  NCTC has been partnering with many organizations to improve and extend fish and wildlife conservation education.  See their web page at https://training.fws.gov/programs/education-outreach/ and check back regularly as more resources are included.
Clic on the link to read about about the Association's accomplishments in cooperation with NCTC: Final Report from the Association of Retired U.S. Fish and Wildlife Service Employees for The Grant Titled Service Heritage and Building the Next Generation
.
Asking for Old Timers' Help
USFWS Region 3 Refuge Chief Charles Blair needs help to identify people in the photos of the attendees at the 1964 Region 3 Regional Conference. Some have been identified, but not many.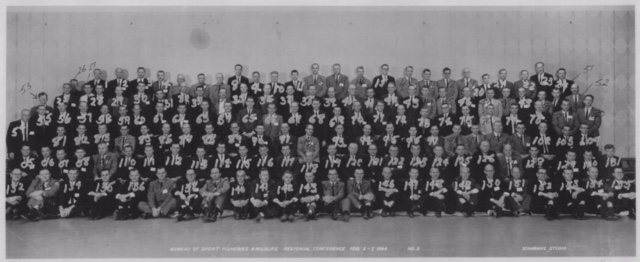 Click here to see larger photos and see if you can help!
Joint Letter Regarding Government Shutdown
Bob Streeter, Chairperson of the Association of U.S. Fish and Wildlife Service Retirees, joined with leadersr of the Coalition to Protect America's National Parks, the Public Lands Foundation, and the National Association of Forest Service Retirees to write to President Trump, Senate Majority Leader McConnell, Senate Minority Leader Schumer, Speaker Ryan, and House Minority Leader Pelosi regarding the impact of a government shutdown on our national parks, national wildlife refuges, national fish hatcheries, resource conservation areas, national forests, and other special lands and waters where people visit and recreate. Read the letter here.
Dan Ashe's Final All-Employee Message
Click here to read FWS Director Dan Ashe's final all-employees message.
New Board Members for 2018 Updated!
Thank you to dues paying sustaining members for taking the time to vote in 2 new members of the Board! They are Deborah Holle and Robin West.
Thank you for supporting the Association and taking the time to vote!
P.S. Sustaining members are those who are current on dues for 2017. Friendly reminder that our dues are payable for each calendar year. You can update your membership on the Join Us tab.
Official Reaction to Malhuer NWR Verdict
The FWS Retirees Association joins with Secretary Jewell and Director Ashe in being profoundly disappointed in the verdict regarding the takeover at Malhuer NWR earlier this year. Their letters to all employees are posted here:
All Employee E-Mail from Secretary Jewel
All Employee E-Mail from Director Ashe
Emerging Issues
- Assaults on Public Lands New!
Our Board is opposed to the loss of any lands now within the National Wildlife Refuge System or any actions not consistent with our heritage, and are developing position statements to the Secretary.
ISSUE: Recently, National Wildlife Refuge System lands in Alaska, Nevada and Texas, including Refuges with lands designated as Wilderness, have been assaulted in ways that are many and varied, and ever-changing.
Click here to read about these assaults and to learn what you can do to combat them.
- Loxahatchee NWR
Our Board wants you, our members, to be aware of an emerging issue, and to write to Florida Governor Rick Scott supporting the FWS positon to work cooperatively.
ISSUE:The State of Florida is attempting to void the lease agreement for one of our most important National Wildlife Refuges. 
Click here to read the letter from the Board Chair to all members of our Association.
- National Bison Range
Our Board wants you, our members, to be aware of an emerging issue, and to encourage you to assist us in developing any future course of action by our Association.
ISSUE:  After failing to reach a reasonable agreement with the Confederated Salish and Kootenai Tribes (CSKT) for the co-management of the National Bison Range (NBR) in Montana, the Service has indicated that it would support legislation to transfer the NBR to the CSKT for management of the lands to be held in trust by the BIA.
Our Board is generally opposed to the loss of any lands now within the National Wildlife Refuge System or actions that are not consistent with our heritage.  We have been in touch with the Directorate and have sent the Director a letter stating our concerns. 
Click here to read the letter from the Board Chair to the Director on behalf of our Association.
We will continue to investigate the nuances of any proposal and keep you informed. 
Numerous members have already voiced their concerns to the Director, the Secretary, and their elected officials.  We encourage you to do the same.  We do want to hear from you and learn of your thoughts and opinions as to what additional action the Retirees Association should take as the issue develops into some specific action by the Service or the U.S. Congress.  Please mail or email any comments to Bob Streeter, Chair, rgstreeter@gmail.com, who will share with the Association Board for further discussion. 
Click here for additional information about this issue.
Been a long time since you have had an email from us?  Know that we have the right email for you?  If the answer is yes to both questions, you may want to check your spam folder and mark anything from these addresses as not spam:

postmaster@fwsretirees.org
chair@fwsretirees.org
treasurer@fwsretirees.org
If you've changed your e-mail address, please update it by clicking here.
Watch the New FWS Retirees Association Video
A new video is available on YouTube called "Join the FWS Retirees Association". Featuring interviews with FWS HIstorian Mark Madison, Pacific Region Retiree Jerry Grover and Board of Directors Member Dr. Mamie Parker, the video covers the history of the Association, the benefits of joining and how to join (if you're not already a member!), and some of the activities members participate in - especially the reunions!
Click here to watch the video.
Board Offers Free Membership for First Year
Apply for membership - your first year is free!
------------------------------------------------------------------------------------------------------
To renew & pay dues, click to pay by check or to pay online by credit card
------------------------------------------------------------------------------------------------------
Why join?
Keep connected to USFWS, renew friendships,
make new friends with similar interests,
travel to unique wild places,
do volunteer work for fish and wildlife conservation,
and support the FWS Retirees Association